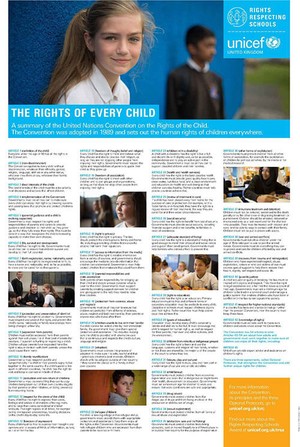 Resource
The Rights of Every Child
These leaflets and posters from UNICEF UK provide an excellent summary of the the 42 articles of the UN Convention on the Rights of the Child. The A5 leaflet unfolds into an A3 poster to show all the articles on one page. There is also an A2-size Rights of Every Child poster (shown here) which accompanies the leaflet but can be purchased separately. With beautiful photos and a colourful design, it is great for school and classroom walls. These are suitable for children aged 11 and above, as well as adults.
Topics
Child Rights
Age Ranges
KS3: ages 11-14, KS4: ages 14-16, KS5: ages 16+
Subjects
Spiritual, moral, social, cultural (SMSC)
Found an issue with this resource?
Flag it
Resource contents
booklet

Price is per pack of 30 leaflets.

poster

Price is for 2 x A2 posters.