What is Global Dimension?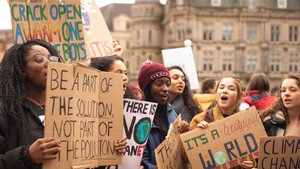 Global Dimension brings together a calendar of global events and a vast library of resources exploring issues from climate breakdown, to migration and democracy, empowering educators to introduce Global Learning and compassionate values to their classrooms. It is also a space for teachers to connect and discuss the issues that matter the most.
The Global Dimension website is powered by Reboot the Future, a small foundation with a vision of a compassionate and sustainable world powered by conversation and connection, with the Golden Rule at the core.
The Golden Rule: Treat others and the planet as you would wish to be treated
The Golden Rule is, at heart, a rule of compassion and connection, calling us to connect with ourselves, each other, and the world around us. By bringing Global Learning to our classrooms, we can encourage our children and young people to recognise the role they play as citizens of the global community, and give them the confidence to work towards an increasingly compassionate and sustainable future.
Why is Global Learning important?
Global Learning plays a vital role in sustainability, social justice, and building a better future. In fact, it is a key element of the UN's Sustainable Development Goal 4 on Education, Target 4.7: to ensure all learners acquire knowledge and skills needed to promote sustainable development, including among others through education for sustainable development and sustainable lifestyles, human rights, gender equality, promotion of a culture of peace and non-violence, global citizenship, and appreciation of cultural diversity and of culture's contribution to sustainable development.
The best thing about Global Learning is that it's not just restricted to Citizenship or PSHE lessons; the resources on Global Dimension can be used across all subjects, from maths to art to PE. Any educator, no matter what they teach, can inspire and empower their students to develop their global understanding.
Through educating young people about their relationships to others and the planet, Global Learning teaches them to understand and respect difference, identify their rights and responsibilities, and think critically about their impacts as global citizens, providing the skills, values, and motivations to build a more compassionate and sustainable world. As social and environmental issues escalate, nurturing compassionate values stands out as a simple key to unlock a positive future for all.
The resources available on Global Dimension allow pupils to:
make connections between local and global issues and communities
develop the skills to combat injustice, prejudice and discrimination
critically examine their own values and attitudes
Quality assured resources
This website lists hundreds of teaching materials that support teachers in developing a global dimension to the curriculum. They are published by a range of organisations including commercial, public and not-for-profit publishers. All the resources listed are expected to meet a set of essential inclusion criteria.
The main criteria are that resources should:
focus on education, not campaigning or fundraising
relate to at least one of the Sustainable Development Goals (SDGs)
promote the development of positive values and attitudes, and an outlook that encourages active participation, co-operation, respect for cultural diversity and democratic citizenship
challenge stereotypes and discrimination, and promote social inclusion
provide opportunities for active learning