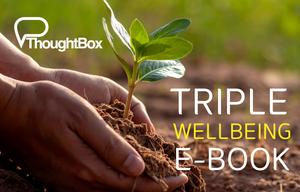 Resource
Triple Wellbeing E-Book
Created by
Suitable for primary and secondary educators, this free e-book offers a wealth of knowledge from the great minds at ThoughtBox.
Drawing on over a decade of action research into education for sustainability and regenerative learning, this e-book is a journey right down to the root causes of our crises in schools and back out again towards a healthier learning horizon by nurturing a culture of care for ourselves, for each other and for the planet.
Topics
Compassionate Values, Health and Well-being
Age Ranges
KS1: ages 5-7, KS2: ages 7-11, KS3: ages 11-14, KS4: ages 14-16, KS5: ages 16+
Subjects
Citizenship, PSHE / PSE / PSED, Spiritual, moral, social, cultural (SMSC)
Found an issue with this resource?
Flag it