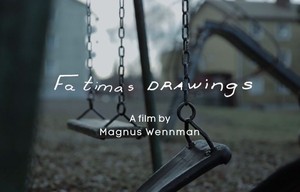 Resource
Film: Fatima's Drawings
Watch this powerful 5-minute film about the memories of Fatima, a Syrian Refugee.
Fatima dreams that she is falling from a ship. Together with her mother, Malaki, and her two siblings, she fled from the city of Idlib when the Syrian national army indiscriminately slaughtered the city's civilians.
After two years in a refugee camp in Lebanon, the situation became intolerable and the family was able to flee to Libya and board an overfilled boat. On the deck of the boat, there was a very pregnant woman who gave birth to her baby after 12 hours in the blazing sun. The baby was stillborn and was thrown overboard. Fatima saw everything.
Now Fatima lives in the city of Norberg in Västmanland. She goes to school and loves to draw. Through her drawings, Fatima shows her memories from Syria and her journey to Sweden.
Topics
Arts, Culture and Religion, Child Rights, Compassionate Values, Globalisation and Interdependence, Health and Well-being, Peace, Conflict and Justice, Politics and Government, Social Justice
Age Ranges
KS3: ages 11-14, KS4: ages 14-16, KS5: ages 16+
Subjects
Citizenship, English: literature / story, Geography, History, Media studies, Politics, PSHE / PSE / PSED, RE / RS, Spiritual, moral, social, cultural (SMSC)
Found an issue with this resource?
Flag it