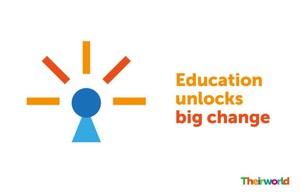 Resource
Education Unlocks Big Change
Created by
Education is one of the keys to unlocking a safe, fair and sustainable world for everyone. These cross-curricular activities for ages 7-11 and 11-16 help young people to appreciate the power of education.
Learners will:
Reflect on their hopes and aspirations for the future and what changes you would like to see happen in the world
Learn about the Sustainable Development Goals, the set of goals and targets aimed at making our world a better place
Investigate how education can help these global goals to be achieved
Creatively communicate their ideas about the importance of education in unlocking change
Topics
Globalisation and Interdependence
Age Ranges
KS2: ages 7-11, KS3: ages 11-14, KS4: ages 14-16
Subjects
Citizenship, English / literacy, English: ESOL / EAL, English: literature / story, Geography, Politics, PSHE / PSE / PSED, Spiritual, moral, social, cultural (SMSC)
Found an issue with this resource?
Flag it