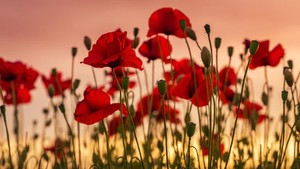 Remembrance Day
Taking place on 11 November every year.
Commemorating the sacrifices of members of the armed forces and of civilians in times of war.
Remembrance Day, also known as Poppy Day or Armistice Day, commemorates the sacrifices of members of the armed forces and of civilians in times of war, specifically since World War I (1914-1918). It is observed on 11 November because World War I ended on that date in 1918. Because red poppies bloomed on the Western Front during World War I they became a symbol of remembrance and are often worn in the UK around the time of Armistice Day, with sales raising funds for people who have served in the armed forces, and their dependents, through the poppy appeal of the Royal British Legion. The Peace Pledge Union and many pacifists support the wearing of white poppies as an alternative. Some people wear both red and white! This could form the basis of an interesting issue to discuss in class, with students researching the background and debating the different reasons for wearing different coloured poppies. For some images exploring Armistice Day in different countries, take a look at The Boston Globe Big Picture | Armistice Day Remembrances (date: 2009). Learning resources
If you are teaching about the centenary of World War One, the following resources may also be useful:
The following reports also provide interesting global perspectives:
BBC News Magazine: Six unexpected WW1 battlegrounds - explores sites outside Europe where WW1 fighting took place, including Togo, Lebanon, Mexico, Tanzania and China.
British Council: Remember the World as well as the War - presents findings from an survey of people in Egypt, France, Germany, India, Turkey, Russia and the UK. It explores their perceptions and knowledge about the First World War and highlights the truly global nature of the conflict and its lasting legacy. The report also identifies that international perceptions of the UK today are, in part, still influenced by Britain's role in the First World War.
British Future: Do Mention the War - draws on original research into what the public know and don't know about the first world war, why they think the centenary matters and what they want it to be about. Explores the contribution made by soldiers from the Commonwealth.
You could also read through our article on conflict resolution, which provides an introduction to this topic.