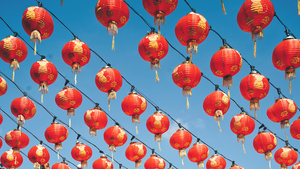 Chinese New Year
Chinese festival celebrating the end of winter, the new year and the start of spring.
Chinese New Year, also known as the Spring Festival, is the most important of all the holidays in China, and is also celebrated by Chinese communities all around the world. It marks the end of winter and the start of spring. The whole festival lasts for fifteen days and culminates in a lantern festival on the fifteenth day, which is also when the moon is full. Traditions include:
Sweeping the house before the festival, in order to sweep away bad luck
A Reunion Dinner on Chinese New Year's Eve, when families gather together to enjoy a traditional meal. This gives rise to the Chunyun or "spring transportation" - the world's biggest

annual human migration

as people in China head home to be with their family.
Dressing in red, which symbolises fire, to scare off evil spirits
Setting off fireworks and firecrackers, again to scare off evil spirits
Gifts and money are given in red envelopes, from the older generation to children; and sweets and food are exchanged.
The Boston Globe Big Picture website has some great pictures of Chinese New Year being celebrated around the world (from 2012). And BBC News has some pictures of China's annual migration. The British Council has an education pack for primary schools exploring Chinese language and culture, including Chinese New Year - Year of the Rooster Education Pack (published December 2016). The Guardian Teacher Network has a useful web page: How to teach... Chinese New Year.