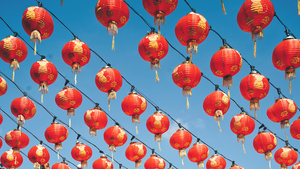 Chinese New Year
Chinese festival celebrating the end of winter, the new year and the start of spring.
About the event
Chinese New Year, also known as the Spring Festival, is the most important of all the holidays in China, and is also celebrated by Chinese communities all around the world. It marks the end of winter and the start of spring. The whole festival lasts for fifteen days and culminates in a lantern festival on the fifteenth day, which is also when the moon is full. Traditions include:
Sweeping the house before the festival, in order to sweep away bad luck
A Reunion Dinner on Chinese New Year's Eve, when families gather together to enjoy a traditional meal. This gives rise to the Chunyun or "spring transportation" - the world's biggest annual human migration as people in China head home to be with their family.
Dressing in red, which symbolises fire, to scare off evil spirits
Setting off fireworks and firecrackers, again to scare off evil spirits
Gifts and money are given in red envelopes, from the older generation to children; and sweets and food are exchanged.
How to approach it
This is another great opportunity to explore the magic of one of the world's great cultural traditions. If you have any students with Chinese heritage this is a good opportunity to celebrate with them and, if they are confident enough, allow them to share their experiences of the festivities with your class.
There are many ways to dive deeper into this day. For example, your class could research the different traditions that make up this day. Ask, how do these traditions differ in different regions of China? What about amongst the Chinese diaspora? It's also good practice to engage your students in cultural comparison. Ask students to find similarities and differences between Chinese new year celebrations and other new year traditions around the world.
Finally, you could engage your students with a discussion over the values that these traditions are intended to encourage. For example, why is there often a focus on family? What about new beginnings or 'spring transformation'?
Conversation starter
What similarities can you find between Chinese New Year and other new year celebrations? What about any differences?