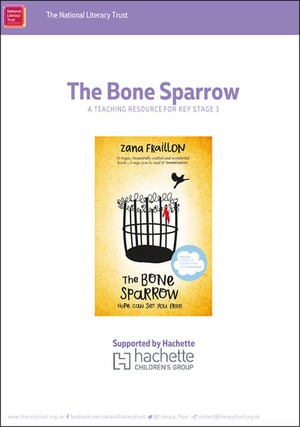 Resource
The Bone Sparrow
The Bone Sparrow is a novel by Zana Fraillon which was shortlisted for the 2016 Guardian Children's Fiction Award. It tells the story of Subhi, a refugee born in an Australian detention centre to a mother fleeing violence in her homeland of Burma (Myanmar). The novel deals with issues of migration, asylum, refugees and human rights through the eyes of children affected. Although fictional, it is based on real reported events relating to the Rohingya people. This teaching resource aims to help 11-14-year-olds to engage critically with the novel and to reflect on the themes, and on the relationships between fact and fiction. It provides background information on Burma and the Rohingya people and offers support on exploring controversial issues. It also provides a range of structured and semi-structured activities suitable for assemblies, school library work, tutor time and English/literacy, Citizenship or SMSC.
Topics
Equality, Social Justice
Age Ranges
KS3: ages 11-14
Subjects
Citizenship, English / literacy, Assembly, Spiritual, moral, social, cultural (SMSC)
Found an issue with this resource?
Flag it