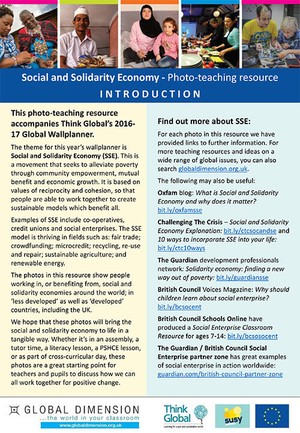 Resource
Social and Solidarity Economy
This photo-teaching resource accompanies Think Global's 2016-2017
Global Wallplanner
. It uses 24 colourful, real-life photos to explore the
'Social and Solidarity Economy'
 – a movement that seeks to alleviate poverty through community empowerment, mutual benefit and economic growth. The Social and Solidarity Economy movement is based on values of reciprocity and cohesion, so that people are able to work together to create sustainable models which benefit all. Examples of SSE include co-operatives, credit unions and social enterprises. The SSE model is thriving in fields such as: fair trade; crowdfunding; microcredit; recycling, re-use and repair; sustainable agriculture; and renewable energy. The photos in this resource show people working in, or benefiting from, social and solidarity economies around the world; in 'less developed' as well as 'developed' countries, including the UK. We hope that these photos will bring the social and solidarity economy to life in a tangible way. Whether it's in an assembly, a tutor time, a literacy lesson, a PSHCE lesson, or as part of cross-curricular day, these photos are a great starting point for teachers and  pupils to discuss how we can all work together for positive change. Download the resource via the link below (you will need to be logged in to download it).
Topics
Compassionate Values, Environment and Sustainability, Industry and Economy, Media, Internet and Technology, Production and Consumption, Social Justice
Age Ranges
KS2: ages 7-11, KS3: ages 11-14, KS4: ages 14-16
Subjects
Art and design, Citizenship, English / literacy, English: ESOL / EAL, Geography, History, Languages, Science, Assembly, Clubs and extra-curricular
Found an issue with this resource?
Flag it