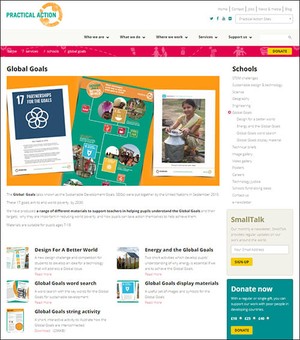 Resource
Global Goals
Practical Action has produced a range of different materials to support teachers in helping pupils understand the Global Goals (Sustainable Development Goals) and their targets; why they are important in reducing world poverty, and how pupils can take action themselves to help achieve them. Materials are suitable for pupils ages 7-18, and include the following:
Global Goals word search - with the key words for the Global Goals for sustainable development
Global Goals string activity - short, interactive activity to illustrate how the Global Goals are interconnected
Global Goals display materials - useful set of images and symbols for the Global Goals, available to download.
Download all these resources via 
http://practicalaction.org/global-goals
(See also
Design for a Better World
and
Energy and the Global Goals
, Practical Action's resources in the same series.)
Topics
Environment and Sustainability, Social Justice
Age Ranges
KS2: ages 7-11, KS3: ages 11-14, KS4: ages 14-16, KS5: ages 16+
Subjects
Geography, PSHE / PSE / PSED
Found an issue with this resource?
Flag it