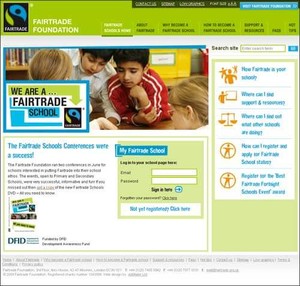 Resource
Fairtrade Schools Award
There are lots of reasons why you should want your school to gain Fairtrade School status. First of all, you'll be helping more than five million people - farmers, workers and their families - in developing countries to get a better deal. Secondly, young people are passionate about global issues and will love participating in activities that will help make the world a fairer place. Thirdly your school gets national recognition that you can display with pride! This process also provides an opportunity to spice up different areas of the curriculum and take an active approach to global citizenship. The Fairtrade website has information to help you get started including an Action Guide with lots of ideas about things you can do. It also explains the criteria and the kind of evidence you will need to submit with your application. These include setting up a steering group, putting together a Fairtrade Schools policy, committing to selling, promoting and using Fairtrade products and incorporating issues relating to Fairtrade into the curriculum. Finally, the school will take action for Fairtrade through whole school activities within the school and the wider community.
Topics
Production and Consumption
Age Ranges
Subjects
Awards
Found an issue with this resource?
Flag it