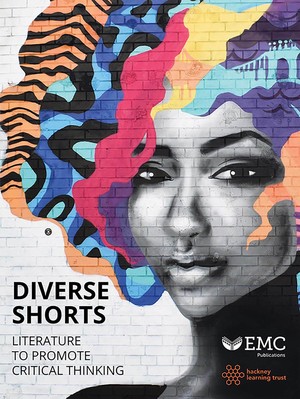 Resource
Diverse Shorts
With its focus on a richly diverse range of texts to promote critical thinking, Diverse Shorts fills a gap in the educational experience of today's secondary pupils. From Andrea Levy to David Almond, from Angie Thomas to George Orwell, and from Alex Wheatle to ZZ Packer, these texts offer pupils challenging material by renowned authors writing about issues important to the world today. Accompanying material, both within the book and downloadable online, encourages pupils to explore the texts from a range of critical standpoints. Great for English lessons, Citizenship, PSHE and tutor time. The book:
features literature to challenge, entertain and inspire
develops critical reading skills
engages young people with real world values
includes activities to use with each short story or extract
has extracts that can be read singly or in thematically linked clusters.
A set of nine specifically developed critical literacy cards cover the following issues: 'identity', 'freedom', 'tolerance, rights & respect', 'justice', 'diversity & community', 'democracy', 'equality & responsibility', 'change & action', 'power & control'. Publication date is January 2018; available to pre-order. A sample PDF is available to download.
Topics
Arts, Culture and Religion, Compassionate Values, Equality, Globalisation and Interdependence, Politics and Government
Age Ranges
KS3: ages 11-14, KS4: ages 14-16
Subjects
Citizenship, English / literacy, Philosophy / P4C / Critical thinking, PSHE / PSE / PSED
Found an issue with this resource?
Flag it