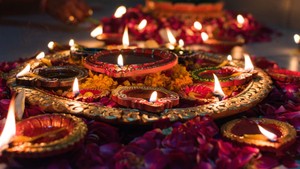 Diwali
Hindu festival of lights; also celebrated by Jains and Sikhs.
The name Diwali comes from the Sanskrit "Dipavali", which translates as "row of lamps". During Diwali lamps are lit, fireworks are set off and buildings are festooned in fancy lights. These lights signify the triumph of good over evil, of light over darkness and of knowledge over ignorance. They also symbolically light the way for Lakshmi, goddess of wealth and prosperity. Diwali is also seen as the start of the new business year, and as a celebration of the harvest. As well as the lights, traditions include:
Cleaning or redecorating the home and buying new clothes
Sharing gifts with others, especially sweets
Creating rangoli patterns in front of the house to welcome the goddess.
There are some lovely photos illustrating Diwali on the Boston Globe Big Picture website (dating from 2009). See also our article on Festivals of light. Find out more about Diwali from the following websites:
See also the following publications for schools, available from RE Today:
For secondary students (ages 11-16), there are film clips, assembly and lesson resources about Diwali on the TrueTube website.