Holocaust Memorial Day
Taking place on 27th January every year.
Learn lessons from the Holocaust and subsequent genocides to create a safer, better future.
About the event
Holocaust Memorial Day (HMD) is marked each year on 27th of January, the anniversary of the liberation of the Nazi extermination and concentration camp at Auschwitz-Birkenau in 1945. HMD seeks to highlight the importance of understanding and combating the processes that led to the mass extermination of Jews during World War II, and to recognise that the type of behaviour demonstrated in Nazi Germany was not unique either to Germany or to a particular point in history. More recent events in Cambodia, Bosnia, Rwanda and Darfur amply demonstrate the propensity of human beings to engage in mass murder.
How to approach it
This is an extremely important day, and one that must obviously be approached with caution. Holocaust educators generally agree that eight is the minimum age you can begin teaching about this topic with some starting at KS3. With that said, if children ask about the Holocaust its more important to answer them and to ease their worries. Focus on less on details and more on the themes present during the Holocaust. For example it was a situation of mass discrimination in which minority groups such as Jewish people, Roma and LGBTQ+ people were singled out as different and unwanted members of society. Highlight the resistance against these oppressive practices and how large portions of the world came together to condemn them. The key of course is to highlight how we must recognise the roots of discrimination and political violence so that we can ensure such horrific genocides never happen again.
The Holocaust Education Trust has an excellent indepth guide and resource hub for going into this day into more detail that you can explore below.
Organised by
United Nations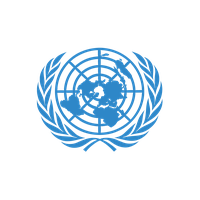 Conversation starter
During World War Two, Nazis killed millions of Jewish People, Roma Gypsies, gay people and disabled people. Today we remember all those that were lost and remind ourselves how it should never happen again.