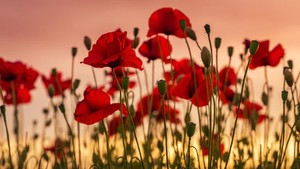 Remembrance Day
Taking place on 11 November every year.
Commemorating the sacrifices of members of the armed forces and of civilians in times of war.
About the event
Remembrance Day, also known as Poppy Day or Armistice Day, commemorates the sacrifices of members of the armed forces and of civilians in times of war, specifically since World War I (1914-1918). The 11th of November marks the day on which the hostilities of World War 1 ended 'at the 11th hour, on the 11th day, on the 11th month'. Because red poppies bloomed on the Western Front after the war ended, they became a symbol of remembrance and are often worn in the UK around the time of Armistice Day. Through the poppy appeal, the Royal British legion sells poppies every year with funds going to those who have served in the armed forces and their dependents.
Remembrance Day is observed across the Commonwealth and several other countries such as France. Often, people gather at memorials to lay wreaths, or go to a remembrance day church service. At 11am it is common for a national two minutes silence to be observed, a time for reflection on the sacrifice made by millions in the World Wars and other conflicts.
How to approach it
Remembrance Day is a time to reflect on the horrors of war and to remember those who lost their lives. It's also a day to think about building peace and how we can ensure such horrors never happen again.
First it's useful to give your students context for why the day is held at all and why it is so sober for so many. The two World Wars changed the social landscape of Europe forever and had deep psychological impacts on the generations that were involved. Millions died and practically the whole population of Europe was affected by the war efforts, combat, food shortages and bombing raids. For those who were alive at the time or knew close family members that were - this day is hugely important to pay respect to the dead and to reflect on what happened. Use an empathy building exercise in which students put themselves into the shoes of a civilian just after the war. Ask how would this have affected their lives? Who might they have lost? Why might they want to remember them? How would they have felt about war?
Next, introduce a critical element to the discussion. There is an ongoing debate as to whether remembrance day unnecessarily glorifies war, soldiers and violence. This has led some to wear a white poppy which symbolises support for peace and pacifism. Engage your students with this question: In what ways does Remembrance Day glorify war and in what does it not? Is there enough focus on the horrors of war and of the prevention of war? After you could ask: if we are to remember those who lost their lives, how can we do this in the best way?
The Peace Education Network's Teach Peace Pack is a great way to approach these issues. In particular the attached assembly 'Remembering for Peace'.
Conversation starter
On this day some wear red poppies and others wear white ones. White poppies are supposed to show support for peace and pacifism. Do you think that Remembrance Day glorifies war too much? Can you think of some arguments for and against?